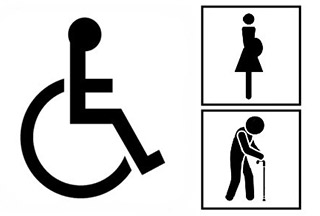 By person with reduced mobility (PRM) we mean anyone who has a particular difficulty in using public transport, including the elderly, the disabled and pregnant women. People who require particular assistance can request it by highlighting their needs at the airport ticket office at the time of purchase of the travel ticket and to the crew members, adequately trained to provide specific assistance to PRM in wheelchairs and to PRM other than those in wheelchair. … Omitted… (extract ART. 9 of the General Conditions of Transport).

We also count on your collaboration: for example, if you need adequate accommodation and assistance for boarding, we invite you to notify us in advance at the time of purchase / collection of the ticket at the port ticket office.
In both cases, show up at least thirty minutes before departure, so that we can offer you adequate assistance. Your access on board will take place preferentially and you will be assisted by special personnel. If you are by car, you can park both in the special reserved spaces on the quay - with the symbol displayed on the dashboard - and on board the ships in the parking areas for PRM. If blind, a companion is expected to travel for free.
On board our units, where possible, special sanitary rooms have been created; in the passenger reception rooms, there are, where possible, spaces for PRM in wheelchairs and seats reserved for PRM other than those in wheelchairs, facilities for transporting PRMs from the deck garage on the saloon deck.
The following are classified as PRM: people who move in wheelchairs due to illness or disability; people with limb problems or walking difficulties; elderly people; pregnant women; blind or visually impaired; deaf or hearing impaired; mentally handicapped people.
Below we indicate the PRM services offered by each unit in order to facilitate your choice and plan the trip compatibly with your needs.
Tetide ship's detalis

Seats reserved for PRMs other than those in wheelchairs:

YES

Seats reserved for wheelchair PRMs

:

YES

Restrooms for PRM other than those in wheelchairs

:

YES

Toilet rooms for wheelchair PRMs

:

YES

Systems for transporting PRMs other than those in wheelchairs from the garage deck to the lounge deck

YES

,

via stairlift



Systems for the transport of PRMs in wheelchairs from the garage deck to the lounge deck:

YES

, by lift
Don Francesco ship's details

Seats reserved for PRMs other than those in wheelchairs:

YES

Seats reserved for wheelchair PRMs

:

YES

Restrooms for PRM other than those in wheelchairs

:

YES

Toilet rooms for wheelchair PRMs

:

YES

Systems for transporting PRMs other than those in wheelchairs from the garage deck to the lounge deck:

YES

, by lift


Systems for the transport of PRMs in wheelchairs from the garage deck to the lounge deck:

YES

, by lift

Quirino ship's details

Seats reserved for PRMs other than those in wheelchairs:

YES

Seats reserved for wheelchair PRMs

:

YES

Restrooms for PRM other than those in wheelchairs

:

YES

Toilet rooms for wheelchair PRMs

:

YES

Systems for transporting PRMs other than those in wheelchairs from the garage deck to the lounge deck

YES

,

via stairlift chair

Systems for the transport of PRMs in wheelchairs from the garage deck to the saloon deck

:

NO

(under construction)
Agostino Lauro Jet ship's details

Seats reserved for PRMs other than those in wheelchairs:

YES

Seats reserved for wheelchair PRMs

:

YES

Restrooms for PRM other than those in wheelchairs

:

YES

Toilet rooms for wheelchair PRMs

:

YES
Laura ship's details

Seats reserved for PRMs other than those in wheelchairs:

YES

Seats reserved for wheelchair PRMs

:

YES

Restrooms for PRM other than those in wheelchairs

:

YES

Toilet rooms for wheelchair PRMs

:

YES
Monte Gargano ship's details

Seats reserved for PRMs other than those in wheelchairs:

YES

Seats reserved for wheelchair PRM

s

:

NO

Restrooms for PRM other than those in wheelchairs:

YES

Toilet rooms for wheelchair PRMs

NO
Dettagli unità Teseo
Seats reserved for PRMs other than those in wheelchairs:

NO

Seats reserved for wheelchair PRMs:

NO

Restrooms for PRM other than those in wheelchairs:

NO

Toilet rooms for wheelchair PRMs:

NO

Systems for the transport of PRMs other than those in wheelchairs from the garage deck to the lounge deck:

NO

Systems for the transport of PRMs in wheelchairs from the garage deck to the saloon deck:

NO
Carloforte ship's details
Seats reserved for PRMs other than those in wheelchairs:

YES

Seats reserved for wheelchair PRMs:

NO

Restrooms for PMR other than those in wheelchairs:

NO

Toilet rooms for wheelchair PRM:

NO

Systems for transporting PRMs other than those in wheelchairs from the garage deck to the lounge deck:

YES

, via stairlift chair
Systems for the transport of PRMs in wheelchairs from the garage deck to the saloon deck:

NO
Maria Maddalena ship's details
PoSeats reserved for PRMs other than those in wheelchairs:

NO

Seats reserved for wheelchair PRMs:

NO

Restrooms for PRM other than those in wheelchairs:

NO

Toilet rooms for wheelchair PRMs:

NO

Systems for transporting PRMs other than those in wheelchairs from the garage deck to the lounge deck:

NO

Systems for the transport of PRMs in wheelchairs from the garage deck to the saloon deck:

NO